Today I give you the recipe to prepare the rice for sushi. As simple as the recipe may seem, if you don't follow the instructions slavishly, it's very easy to go wrong.
All types of sushi are based on rice, so it is good to cook it to perfection if you want to try this preparation. The first step in preparing an excellent sushi is the choice of rice, one of the most important foods in Japanese cuisine. Over 300 varieties are grown throughout Japan, the rice for sushi for example it is rich in starch and has a shorter grain. For the Japanese, in addition to the careful selection of the cereal to be used, it is essential how to cook rice, which varies from preparation to preparation.
The first phase is the fundamental one for the success of the rice, in fact it is necessary to rinse the grains under running water several times to make the excess starch lose, it is a long and laborious but absolutely necessary operation. In the second phase, that of cooking, doses and times must be respected. Water, for example, will have to be one and a half times the weight of rice, which in the end will not be dissolved but will have absorbed all the water present. Another important step related to cooking is that it must take place in 12 minutes from the time of boiling and the lid will never be lifted. Last thing, once the rice has cooled (do not put it in the fridge, please), it is necessary to season it with it sushizu, a sort of vinaigrette prepared with rice vinegar, salt and sugar which gives the cereal stickiness and aroma.
Having said that I leave you with the recipe of rice for sushi, Then you will only have to buy some felled rice and follow my maki recipe to organize a Japanese dinner with flakes at home;
Preparation: 20 min

cooking: 20 min

total: 40 min + 30 min
Method
How to make sushi rice
Put the rice in a bowl and add the water you will immediately throw away.
Now cupping your hand between the beans and turning it around forming imaginary circles.
Pour water into it.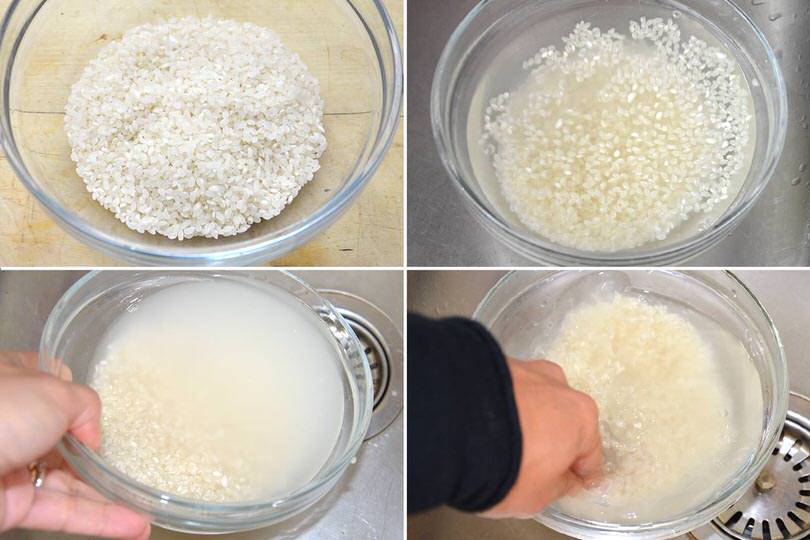 As soon as the water turns white, throw it away and add another clean one.
Repeat this for 3-4 times, until the water is completely clear, then drain the rice and let it rest for 30 minutes.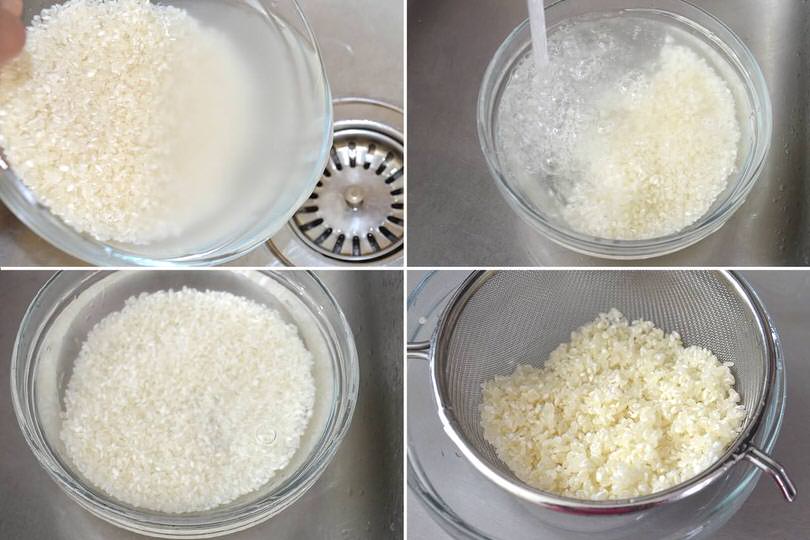 Now transfer the rice to a thick-bottomed saucepan and add the dose of water which must be a quantity of one and a half times compared to rice.
Soak the rice for about ten minutes so that it begins to absorb the water before cooking it.
Then cook over medium heat until boiling, then cover the pot with a lid and cook for 12 minutes on low heat without uncovering the pot.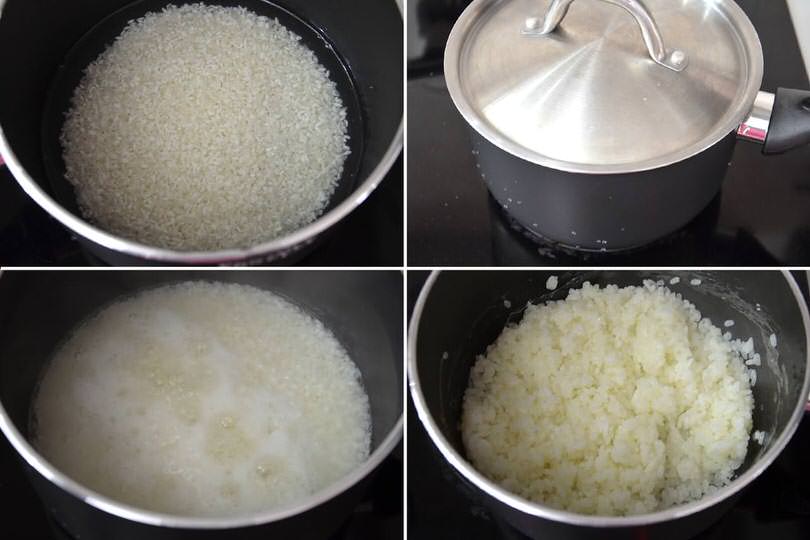 Separately put all the ingredients for the vinagrette in a saucepan.
Heat gently on the heat to melt salt and sugar without boiling.
Pour more liquid into a bowl, add the seaweed and put in the fridge to cool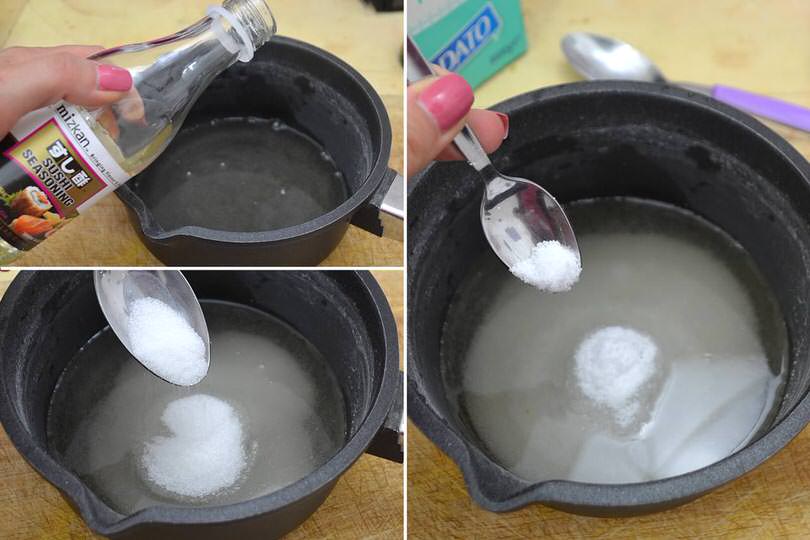 Pour the still hot rice in a bowl and cover it with the prepared vinagrette.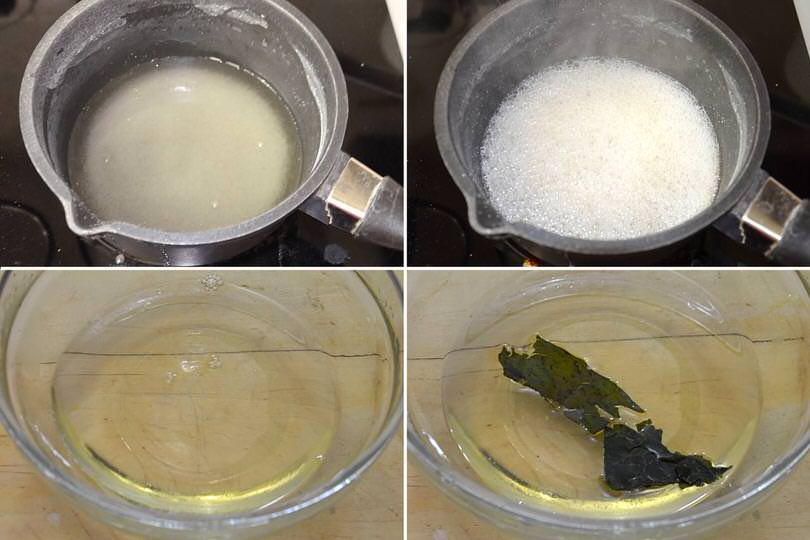 Mix the rice with a spatula (cutting it) and being careful to crush the beans.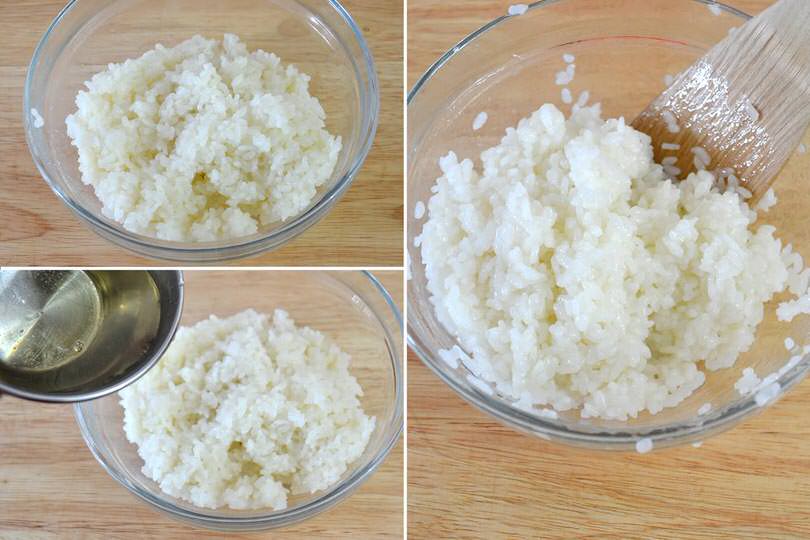 Allow to cool to room temperature by covering the bowl with a cloth.
Your sushi rice is ready to use.